Engraving
---
Engraving: HIGHLY-ACCURATE AND FLAWLESS FINISHES USING CNC MACHINERY.
Our technical department and research and development team are able to analyse, develop and provide our customers with optimal and suitably transparent design phase services. They are able to cope quickly with any demand, starting from ideas or with projects already in progress.
Our mechanical engraving department uses an internal design unit equipped with technologically advanced machines for the design and creation of products. It is equipped with CAD/CAM workstations that use 3-axis milling tool programs capable of handling 2D projects and 3D patterns and designs. All of our systems are fully compatible with the most popular design software and can import all major data types and formats.
Semi-finished products are normally used to develop and rapidly create prototypes and print batches of all kinds for clothing, automotive accessories, etc.
Our mechanical engraving department offers the following machining services:
• brass, aluminium and steel punches and clichés for hot stamping;
• brass moulds and clichés for gold marking and gilding (any design or character);
• rounded moulds and clichés for leather embossing;
• male-female moulds and clichés for leather relief work;
• sole-shaped moulds and clichés;
• brass, steel and aluminium moulds for high frequency (HF), thermoforming and heat sealing machines;
• plates for hot stamping on leather and hides for plating-stamping machines;
• special steel cutting dies obtained from the mechanical engraving of a steel block;
• die cutting label systems;
• liquid wax seals;
• steel punches;
• systems for the application and cutting of leather accessories;
• mould creation;
• control panels;
• small and larger electrical, hydraulic, pneumatic, refrigeration. etc. system panels made of stainless steel, aluminium, Plexiglas, and more.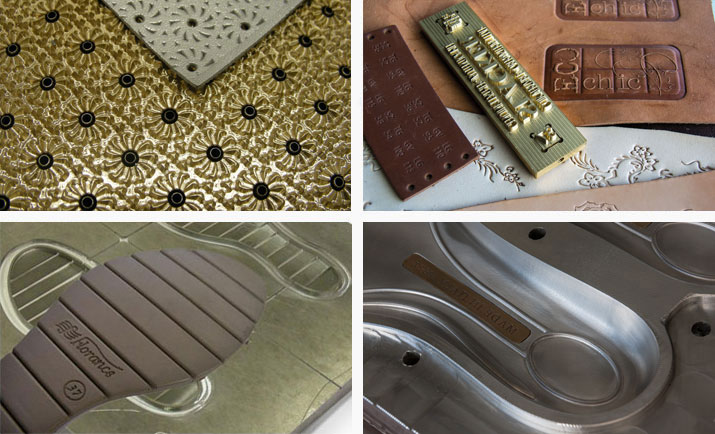 ---
---